German K2 on the start line of the long race
Sebastian Kraft and Holger Trapp registered themselves for the long race Budějovice-Praha as early as of the end of February. They are two kayakers from Berlin in the age of 42 and 50 and they have decent experience with long distance paddling. Holger says: "I paddle since 1987 and first it was just for fun. After a marathon runner career, I came back to the roots of paddling. I live in Berlin with perfect paddling areas and I love long distances in kayak and SUP. Recently I participated in 1000 Seen Marathon, Hiddenseemarathon-2018, Spreemarathon, Replacementtour and many others…" Sebastian adds: "I paddle since 1990 on folding boats just for fun. I paddle long distances since 2016 on surfski and touring boats. I have participated in the following marathons: 1000 Seen Marathon, Spreemarathon, Dessauer Berg a Tal Rallye, Meissen Magdeburg Mammut Marathon and others."
I have asked them how they discover the race and what they know about it. The answer was: "We know about the race a lot. We wanted to join the race earlier, but the 2019 course was too hard and crazy. We believe we will accomplish that distance in three day format."
I personally have no doubts about it. Holger managed to finish Hiddensee marathon in 2018 on K2 in 6:14, while the race director in 2016 suffered there more than six and half hours (6:39 to be precise). Holger and Sebastian raced Spree Marathon in 2019 and they won their category.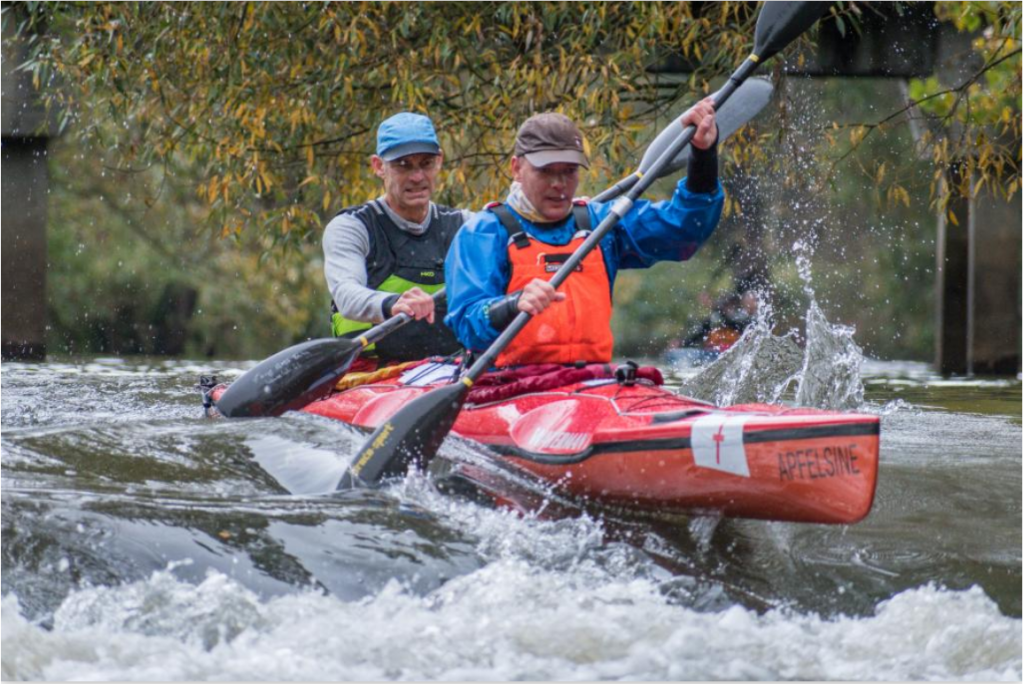 Sebastian and Holger are from different clubs – KKC Berlin (Köpenicker Kanusportclub Berlin) and TiB Berlin Kanu Oberspree. However, they paddle together last two years on K2 and they expressed their interest to go Budějovice-Praha on K2 Nelo Viper. Even though K2 is not the official category, it is not an obstacle and you can do the race on almost anything floating. I am personally curious how the K2 influences the K1 race, if they win the overall race and if any other K2 will try to compete with them, such as experienced couple Zimčík-Dufek.
My last question was about their goals and expectations. They said: "To finish with a smile and drink a good beer." Good luck guys!
Petr Mojžíšek